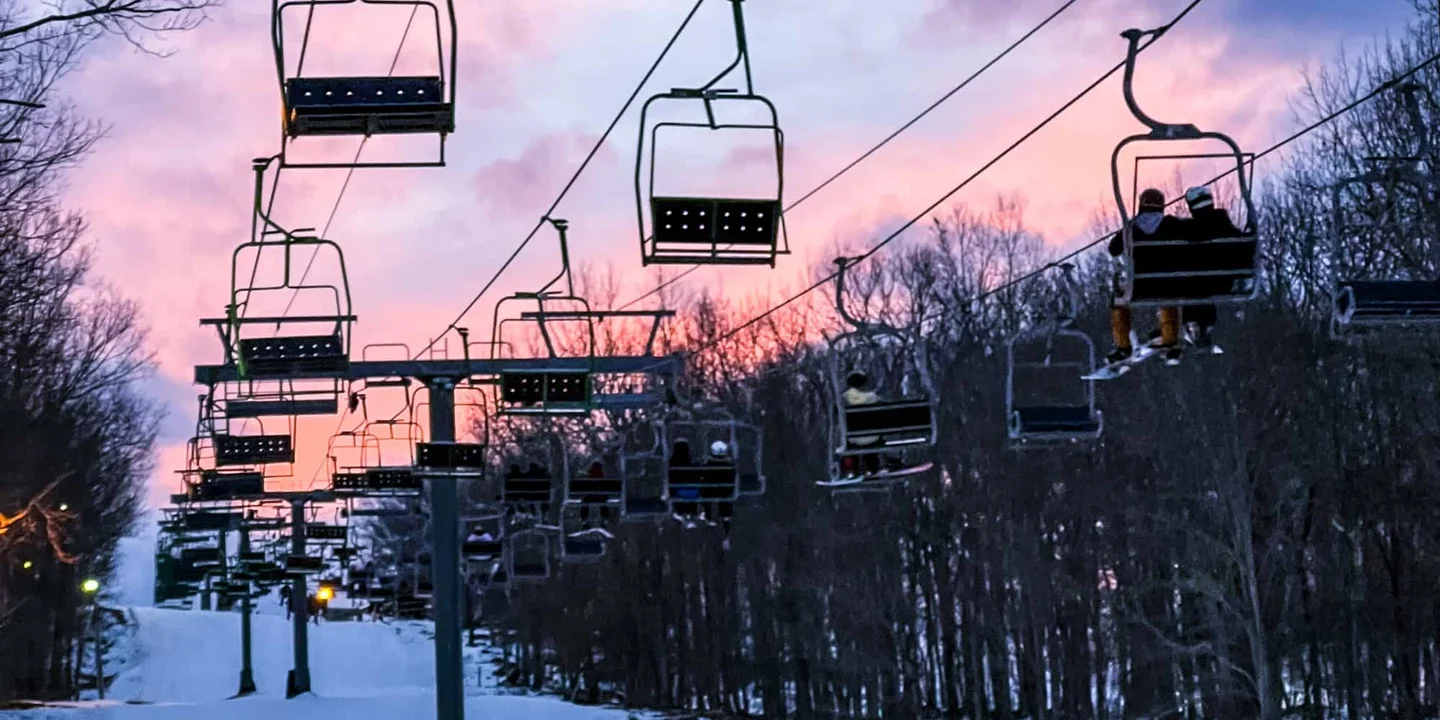 Ski Big Bear's Guide for Visitors
Ski Big Bear is the perfect place for families and friends to enjoy some winter fun! Here are some helpful tips for your visit...
Before You Arrive:
Purchase Lift Tickets, Snowtubing Tickets and Rental Equipment Online
We encourage all guests to purchase tickets and rental equipment online ahead of time. Every guest 18 years of age and older should create an account at shop.ski-bigbear.com to begin. If you are purchasing tickets for children under 18, you as the parent/guardian should create an account, and you can then add the child's information under "My Account" > "Party Members" > "Add Party Members."
Book a Private Lesson With Us
We accept bookings for Private and Semi Private Lessons ahead of time over the phone. Please call 570-226-8585 to book your lesson. For more information on our offerings and pricing, visit our "Lessons" page.
New To Snowsports? Read More
Are you new to skiing or snowboarding? No worries... we've got you covered. Learn about chairlifts, snowmaking operations, how to dress, the best time to visit and more by visiting our "First Timers" page.
When You Arrive:
Pick Up your RFID Lift Tickets at a Ticket Pick Up Kiosk
If you purchased your lift tickets or tubing tickets online, you can pick them up when you arrive by scanning the barcode on your confirmation email at a Ticket Pick Up Kiosk, located next to our ticket windows. There is no need to wait in line to purchase tickets or rentals if you already took care of it ahead of time... you're ahead of the game! For more information on our new reloadable RFID tickets, click here.
Visit the Rental Shop for Equipment
Once you have your RFID lift tickets, you can head to our Rental Shop if you also purchased ski/snowboard equipment. In the Rental Shop, one of our friendly technicians will fit you for equipment
Suit Up!
Finish getting ready for a day on the slopes inside the Summit Lodge. Here, you'll find cubbies, restrooms, refreshments and places to sit and relax. Be sure to layer up and dress warm!
Missing Something? Visit the Ticket Windows to Purchase the Essentials
Did you forget something? We sell the essentials and other retail items at our ticket windows... helmets for purchase, snow pants, goggles, hats, gloves, chapstick, socks, sunglasses and more!
Taking a Ski or Snowboard Lesson? Meet Your Instructor Outside the Lodge
When you're all ready, you will meet our team of instructors outside the lodge on the snow for your lesson. There are red flags indicating the lesson meeting locations, so it is easy for you to spot!
On The Mountain:
Observe Posted Trail Signage & Become Familiar with the Trail Map
Ski Big Bear offers beginner, intermediate, advanced and expert terrain. If you are new to the mountain or if you are new to skiing and riding, we definitely recommend starting out on the beginner or "Easiest" trails... marked on the trail map with a green circle. When descending the mountain, always observe trail, directional and hazard signage at all times.
Know the Code
Common Sense... it's one of the most important things to keep in mind and practice when on the slopes. The National Ski Areas Association (NSAA) believes education, helmet use, respect and common sense are very important when cruising down the mountain. NSAA developed "Your Responsibility Code" to help skiers and boarders be aware that there are elements of risk in snowsports that common sense and personal awareness can help reduce.
Keep Your RFID Lift Ticket / Pass on Your Left Side
For most people, you should carry your RFID card in a pant or jacket pocket on the left hand side of your body. Taller or shorter people may want to wear their RFID card a little lower or higher, so that it passes between the reader panels at each gate. Be sure to keep your RFID card in a pocket by itself, separate from any metallic or foil items that disrupt readability, such as cell phones, mp3 players, etc. Please note, you should not carry multiple Ski Big Bear RFID cards or RFID cards from other resorts as this affects their readability and may cause the wrong ticket or pass to be read. For more information on our new reloadable RFID tickets, click here.
Have Fun!
We have 18 trails to explore! Take some leisurely turns on Whispering Run, or hit the Terrain Park... the choice is yours!
Take Breaks
If you are feeling tired or if you are starting to get cold, take a break inside the lodge!
Taking A Break:
Warm Up in the Lodge
The Summit Lodge has plenty of space to sit, eat, warm up and relax. Inside the lodge, you'll also find a game room if the little ones are interested :)
Grab a Bite to Eat
We have 3 food and beverage options on Masthope Mountain. The Summit Restaurant and Sports Bar offers American style cuisine right inside the lodge on the first floor. Adjacent to The Summit, you'll find grab and go favorites at The Scramble Cafeteria... everything from burgers to pizza! Located across from the Lodge, you'll find fresh soups, salads, snacks and made to order Boars Head sandwiches at the Marketplace at Masthope.
Before You Leave & Before Your Next Visit:
Return your Rental Equipment
After an exciting day on the slopes, be sure to return your equipment to the Rental Shop. If you wanted to ski or ride the following day, you can purchase an additional day and take the equipment home with you overnight.
Reload your RFID Card
Once you have an RFID card, you can reload additional lift/tubing tickets onto your RFID card through your online account.